Hi! I'm Tim. I'm a Christian, American, straight, white, conservative, male filmmaker.
So, chances are, you'll probably disagree with me, but let's not let that get in the way of having fun!
Follow me on INSTAGRAM - GAB - BITCHUTE - YOUTUBE - TWITTER - and whatever other social media you can find me on.


[ [ [ All episodes of #NOBODYGIVESASHIT can be viewed on BITCHUTE and YOUTUBE ] ] ]

^ ^ ^ POSTED: Wednesday. 10 July 2019 ^ ^ ^
^ ^ ^ #NOBODYGIVESAHIT - No. 4 TEASER TRAILER ^ ^ ^
https://www.bitchute.com/video/N4hZtLN0kn9c/
#NGAS
#ngasaboutcontests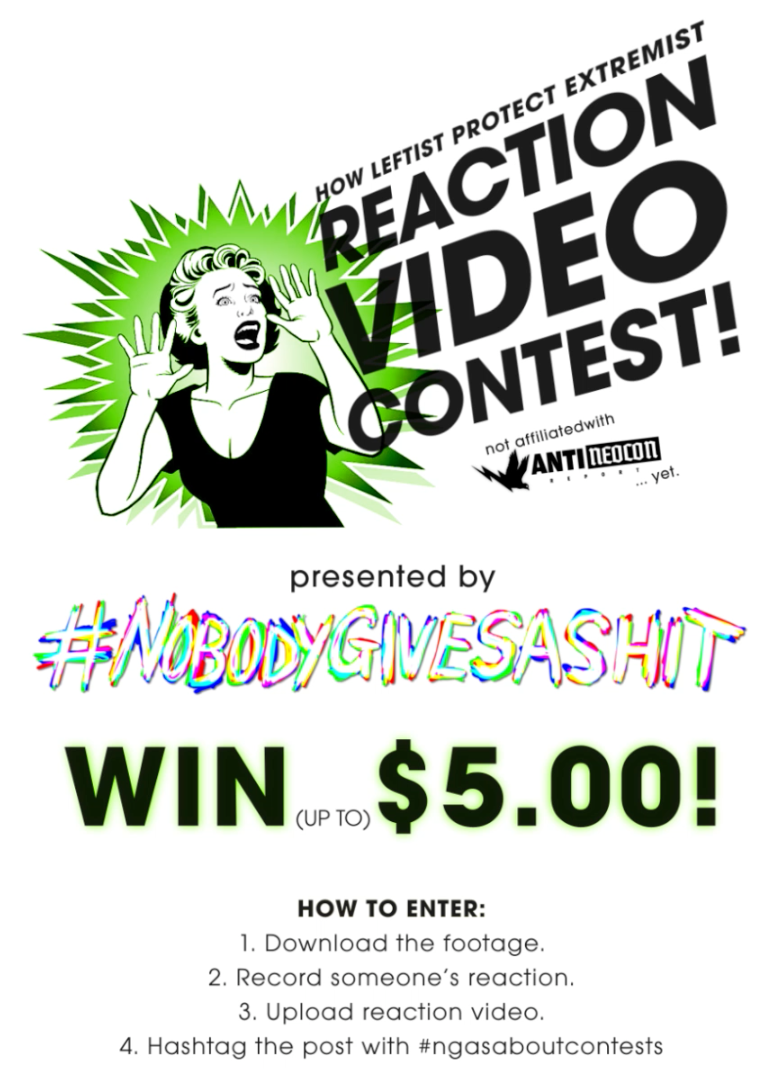 DOWNLOAD FROM ONE OF THE LINKS BELOW

VERTICAL - https://drive.google.com/open?id=1kXRx9Fm2_sYGjCbrmCLhBFY6_2PFrFJG
HORIZONTAL - https://drive.google.com/open?id=1l6RT1N6ZB735wV0h5dpZKw7Jv7n_JPmU
EMAIL LINKS TO ENTRIES TO
stabers@secondfloorpictures.com
^ ^ ^ POSTED: Monday. 27 August 2018 ^ ^ ^

^ ^ ^ POSTED: Monday. 16 July 2018 ^ ^ ^
^ ^ ^ #NOBODYGIVESAHIT - No. 3 ^ ^ ^
https://www.bitchute.com/video/0uF4HdJE3j9m/
#NGAS

^ ^ ^ POSTED: Saturday. 21 April 2018 ^ ^ ^
^ ^ ^ #NOBODYGIVESAHIT - No. 2 ^ ^ ^
https://www.bitchute.com/video/VD4OUWTbOh8o/
#NGAS

^ ^ ^ POSTED: Friday. 13 April 2018 ^ ^ ^
^ ^ ^ #NOBODYGIVESAHIT - No. 1 ^ ^ ^
https://www.bitchute.com/video/VD4OUWTbOh8o/
#NGAS

^ ^ ^ POSTED: Wednesday April 11th 2018 ^ ^ ^

#GlorytoYahweh #JesusisKing #dreamofmemovie #dotisfunctional #dreamofmefilm #dreamofmeseries #secondfloorpictures #commonerafilms #sciencefiction #scifi #databankoperationtechnology | #pizzagate #pizzagateisreal #pedogate #hisnamewassethrich #the_donald #MAGA #Trump2020 | #timstabers @timstabers #CaptainCorona #darbygaelle #darbyhannon @lavacildora #Wendy #jessicawade @jessicacwade #DOT johnstrawn @jstrawn | dream of me movie dot is functional dream of me film dream of me series second floor pictures common era films science fiction scifi databank operator technology | pizza gate pizzagate is real pedogate his name was seth rich the_donald MAGA Trump2020 donald trump @realdonaldtrump | tim stabers Captain Albus Bennet Corona darby gaelle darby hannon lavacildora Wendy jessica wade DOT john strawn jstrawn